Best Overall SME DevPortal - DevPortal Awards 2022
Last edit: Jan 20, 2023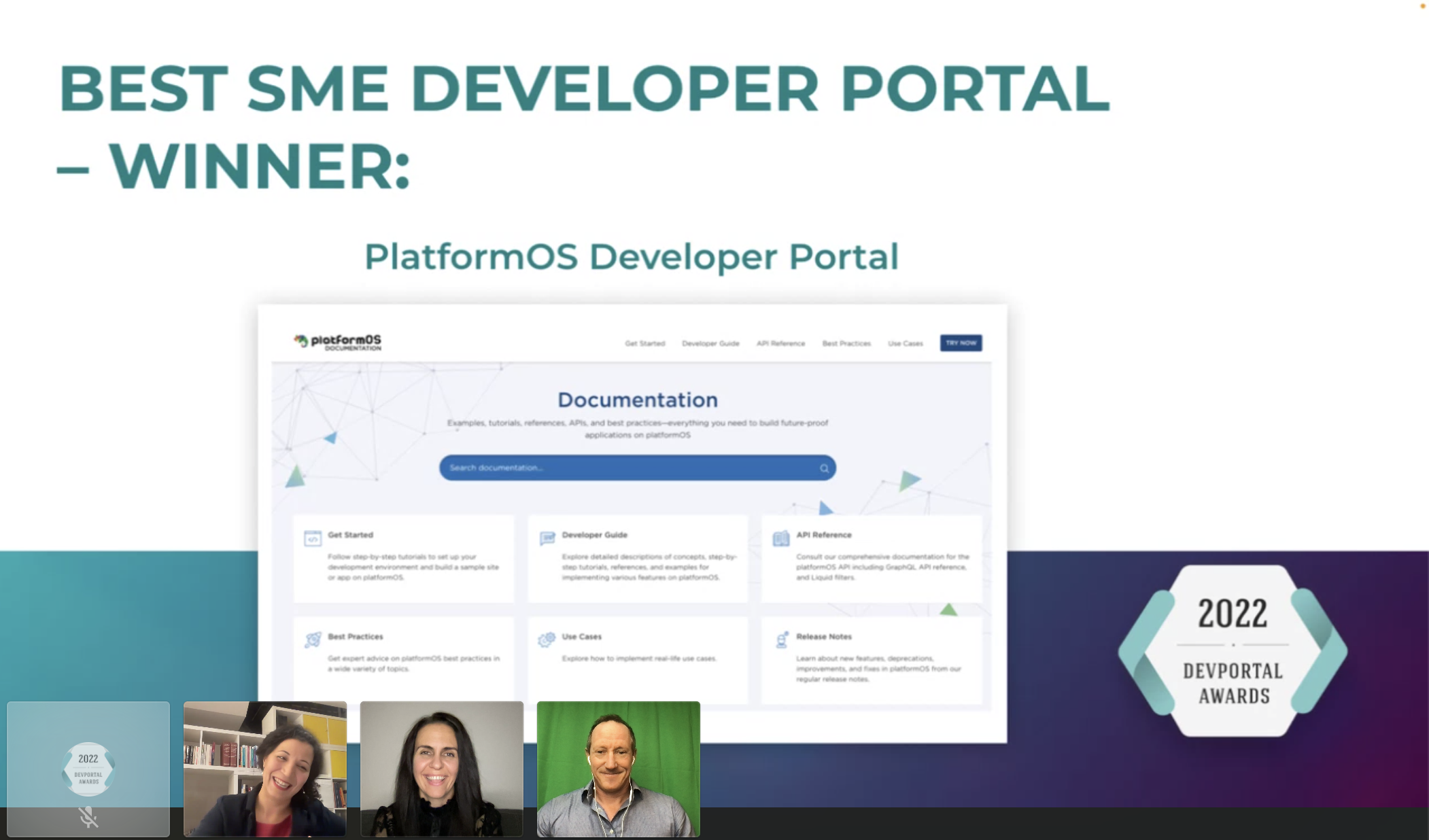 In this article, learn about the DevPortal Awards, this year's judges, and the Best Overall SME DevPortal award.
DevPortal Awards 2022
The DevPortal Awards showcases and celebrates innovative developer portals and the teams behind them.
The jury of respected industry experts looks for developer portals that deliver the best solutions available today, and that push the boundaries of what are believed to be the key components of a developer portal into the future.
In 2022, 41 developer portals were nominated in 15 categories. Each nominee competes for the best overall and the community prizes.
Developer Experience
Best Community Outreach & Support
Best Findability of Products in a DevPortal
Best Onboarding
Best API Reference Documentation
Best Visual Design
Operational Excellence
Best Accessible DevPortal
Best International & Localized DevPortal
Best use of Analytics in a DevPortal
Best New DX Innovation
Business Alignment
Best DevPortal Beyond REST Platforms
Best DevPortal for Citizen Developers (Low/No-Code)
Best served API Business Model
Best use of Monetization
Best Overall Developer Portal
Best SME DevPortal
Best Enterprise DevPortal
Community Prize
Judges
The DevPortal Awards are a peer-reviewed award where jury members are invited and assigned to categories according to their expertise. In 2022, 11 judges worked on assessing the portals:
Best Overall SME DevPortal
Every DevPortal that wins a Best-in-Class award at the DevPortal Awards is considered for the Best Overall award.
For selecting the Best Overall Devportal winners, the jury inspects the developer portal from a holistic approach:
What makes a devportal stand out against competitors?
How do they elaborate on their strategy, UX/DX, and API documentation?
Each type of developer portal encounters its own unique challenges, available resources for innovation and scope for creativity. In the last several years the jury has been torn between these two distinctions. Therefore, two awards are selected based on whether the developer portal is for a large enterprise or small/medium enterprise (SME) as defined when the portal is nominated.
There is a requirement to fill the nominee questionnaire that collects additional narrative information that is unknown or obscure to novel developer portal visitors. The information collected helps the DevPortal Awards jury to make their winner selection.
Thank you to the organizers for all their work behind the scenes, and the judges for providing their expertise and for the amazing effort in evaluating all the nominees in the various categories. We are honored and grateful for such great recognition. We would like to thank all members of our team and community who contributed to our developer portal. We couldn't have achieved this without all of you.
Related